Here we go with a techno thriller that is supposedly book nine of a series. Looks like an interesting tale. Enjoy.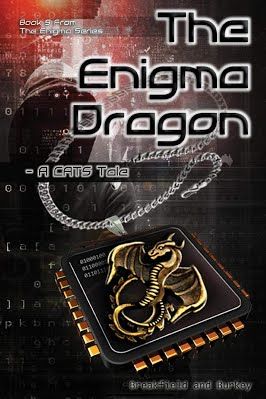 Book 9 in The Enigma Series
September 2017 (Paperback and eBook)
Jun 10 2019 (Audio Formats on Audible and iTunes)
Mike and Marge control ePETRO, an oil shipping business with offices in London and New York, but they don't have the same business goals in mind. Marge intends to sell the North Koreans uranium in addition to oil obtained illegally from the government sanctioned Middle East. But Mike may have other plans, mainly, keeping the profits of these sales for himself.
Then there is the shadowy Steven Christopher, who oversees the information runners who are charged with staying off the grid, is working several angles behind the scenes. Steven is the only one trusted by both Marge and Mike, but why?
Do the vast amounts of information and technology available hold humans' hostage? Do analog communications sidestep your vulnerability in a digital world?
As Juan and Julie Rodríguez send their operatives, Ernesto, Tyler, Summit, Mercedes, Brayson, and George out across the globe to track down these foot soldiers also known as Analog Information Mules, they'll discover the horrible potential treats, and learn about each other along the way.
Julie heads to London to fill the gap undercover inside ePetro, when she finds herself in the center of all the trouble. When Julie disappears, Juan drops everything to find her.
Even with all their information gathering sources and machinery, the R-Group fears she is lost.
Award winning authors, Breakfield and Burkey, take readers on a new techno thriller adventure with their 9th book in The Enigma Series. The Enigma Dragon is chilling journey across four continents, and twelve cities that uncovers terrifying possibilities of what is to become of our world if the CATS team cannot defeat our enemies.
Kirkus "Astute prose and an unwavering pace energized by first-rate characters and subplots."
"The action could be considered exciting and visceral, but the antagonists are the selling points for this book, lifting the plot out of multiple perspectives and scene-shifting (the action takes place across four continents)."
"Any lover of thrillers or techno-thrillers will enjoy this book a lot."
"The clever ingenuity in this book astounds me (the holy man... so quickly creative!)"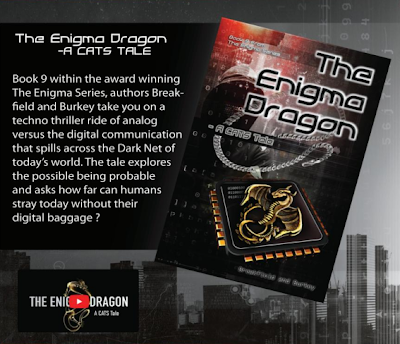 Excerpt
Mike realized something was up with his twenty-something assistant, and she was not going to drop work on his desk and leave. Her fidgeting finally annoyed him enough to disconnect the phone call.
As soon as the phone was disconnected, Laurie blushed as she exclaimed, "Oh my goodness, sir, there is the most fabulous looking young man in the reception area. He says you are expecting him for a job. I have nothing in my planner indicating you have a job applicant, or that we even have an opening." She hopefully added, "I didn't realize we were hiring again, but I'm happy to train him, sir, in any capacity you wish."
Mike thought for a moment, then recalled the request of his customer. "The young man is a relative of one of our customers. I need to have him complete an application. I want him to get a basic understanding of the overall operations. He can start with opening mail, sorting it alphabetically, and he can relieve the receptionist during lunch and breaks, as a start. I do not want you hovering over him like a love-sick puppy, do you understand?"
Laurie grinned with delight as she practically danced out the door to retrieve the forms to get things in motion. Just before the door closed, Mike added, "When he has completed the application, I will speak to him."
"Yes, sir!"
A scant half hour later, Laurie knocked and then opened the door. "Sir, Mr. Dabir Nasr has completed the forms." She walked toward his desk and handed him the application.
Mike reviewed the forms quickly and looked up. "Send him in, Laurie."
Laurie ushered the young man in with a blush rising in her cheeks. One nod from Mike reminded her she was not needed in the conversation. She turned and left, closing the door behind her.
Mike stood and extended his hand as the young man walked in, smiling pleasantly. They shook hands and quickly assessed one another. The young man was eye-to-eye with Mike at a bit under two meters, but considerably thinner. His dark hair was neatly trimmed just above the shirt collar. He wore a light tan shirt with plain dark tie and dark slacks. The quality of the fabric was not particularly good, but the cut and fit was definitely current with today's business casual standards.
"Mr. Patrick, thank you for seeing me. My uncle tells me this opportunity is one I will appreciate at some point in my life. I am not certain what you would have me do, but I am willing to learn, sir." He then handed a sealed envelope to Mike. "My uncle requested I bring this letter to you."
Mike accepted the offered envelope and then looked critically at the young man, having detected no sincerity in his greeting. Then again, after knowing Kashan now for several years, this was normal behavior. "Kashan tells me, Dabir, you recently graduated university and have friends here in London. I suspect a lady friend or two as well.
"He asked if you might learn the business essentially from the bottom up, so I will have you go through all the positions in that manner. I trust you will not consider any of these positions insulting or beneath you. I am complying with the request of an old friend."
"Any job is fine as long as I can learn. I do learn very quickly though.
"I noticed your staff seems young and very busy on their phones and computers. Do they work with all the accounts, or are they assigned customers?"
Mike warmed to the subject and replied, "Each representative has specific customers, though a backup is also assigned to an account to cover any time someone is away from the office. You may, after some period of time, be assigned a few accounts to cover, at least for back up. Initially, I want to have you get your initial basic work assignments from Laurie. She and I spoke of some duties over the next few weeks of mail, filing and reception desk coverage. Laurie handles most of my correspondence and is actually in charge when I am out of the office."
Their conversation continued for thirty more minutes as Mike related his background of work in the oil fields as his introduction to the business. Mike outlined some of the work he had done in the United States and how he had worked his way up to his current position. For his part, Dabir related his studies and some of the trade work he had completed in Iran, Turkey, and Saudi Arabia. He laughed as he discussed some of the earlier endeavors before university. In the short time, they had formed a quasi-employer-to-employee relationship.
As they wound down, Dabir looked at Mike and seriously asked, "Is this Laurie your part time female too?"
Mike shook his head and added, "No, and I don't want you pursuing a relationship with her either. She has too much to get done to have her head in the clouds."
About the Authors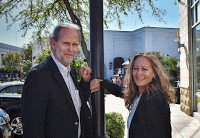 Breakfield – A renowned technology solutions architect with 25+ years of experience in security, hybrid data/telecom environments, unified communications, enjoys leveraging his professional skills in creating these contemporary TechnoThriller stories. He likes studying World War II history, travel, and cultural exchanges everywhere he can. Charles' love of wine tastings, cooking, and Harley riding has found ways into The Enigma Series. He is convinced that being a part of his father's military career in various outposts, has positively contributed to his many characters and the various character perspectives he brings into the series. He has accepted the challenge to try to teach Burkey humor and has added this to the stories in an unexpected manner.
Burkey – A renowned customer experience, business architect optimizes customer solutions on their technology foundation. She has been a featured speaker, subject matter expert, interviewer, instructor, and author of technology documents, as well as co-author of The Enigma Series. It was revealed a few years ago that writing fiction is a lot more fun than white papers or documentation and Rox took it to heart. As a child she helped to lead the other kids with exciting new adventures built on make believe characters. As a Girl Scout until high school she also contributed to the community in the Head Start program. Rox enjoys family, learning, listening to people, any kind of travel, outdoors, sewing, cooking, and imagining the possibilities.
Breakfield & Burkey – Combine their professional expertise, knowledge of the world from both business and personal travels, many characters whom have crossed their paths are a part of the series character universe. They find it interesting to use the aspects of technology people are actually incorporating into their daily lives and make it one aspect a primary theme for each story. Breakfield & Burkey claim this is a perfect way to create stories that pit the cyber good guys versus the cyber bad guys. The books in this award-winning series can be thoroughly enjoyed alone or in sequence.
You can invite them to talk about their stories in private or public book readings. Burkey also enjoys interviewing authors through the Indie Beacon/iHeart Radio programs with dates of interviews showing inside the calendar page of their website www.EnigmaSeries.com. Followers can see them at various book fairs, book Stores, Comic Book events, libraries and other fun venues.