Here's a promo for a rare non-fiction title. Check out what author has to say with the excerpt, then be sure to enter the associated giveaway. Open US only, you have through 9/18 to enter. Good luck.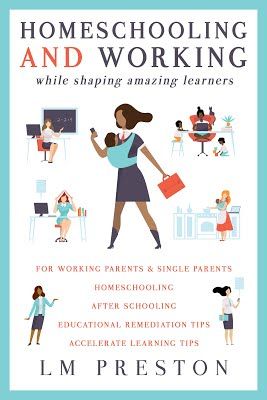 Date Published:
Aug 7th 2019
Publisher : Phenomenal One Press
Homeschooling and Working While Shaping Amazing Learners is a nuts to bolts guide for working parents who want to groom exceptional learners through the flexibility of homeschooling. Learn to juggle working and homeschooling your kids while maintaining your sanity. Also, use aspects of homeschooling for after-schooling when traditional school isn't working. Single parents are given options for executing homeschooling or after schooling methods that work in practical bits for the busy parent. Learn how to take your child from an average student to an exceptional student by exploring the possibilities shown in the section on acceleration of learning. From pre-K to Homeschooling College, open your eyes to the many options in flexibility this approach to learning can give. You can homeschool and work to shape amazing learners by exploring the possibilities.
Plus Kickstarting Homeschooling While Working Mini-Course

The first and foremost expectation and goal of homeschooling and working should be to build a close and loving relationship with your child. Don't ever let the educating of your child get in the way of that. Remembering, as long as they are growing to perform well in their core courses or anchor courses all the rest will fall in place.

Before diving into homeschooling, being realistic is the first step to managing your expectations. Sometimes through aiming in the middle, you are pleasantly surprised when you and your children exceed them.

In order to start from a good place, create a list of your bottom line goals for the school year and build your mindset to be happy that at the very least you've met them.
Disclosure: Java John Z's did not receive compensation for this post and is not responsible for prize fulfillment.