Here we have book two in author King Everett Medlin's latest offering. Along with that, we have a guest post from the author about his writing process. Then, there is also a giveaway for a signed copy of book. Open to US residents only, probably, you have through 12/20 to enter. Good luck.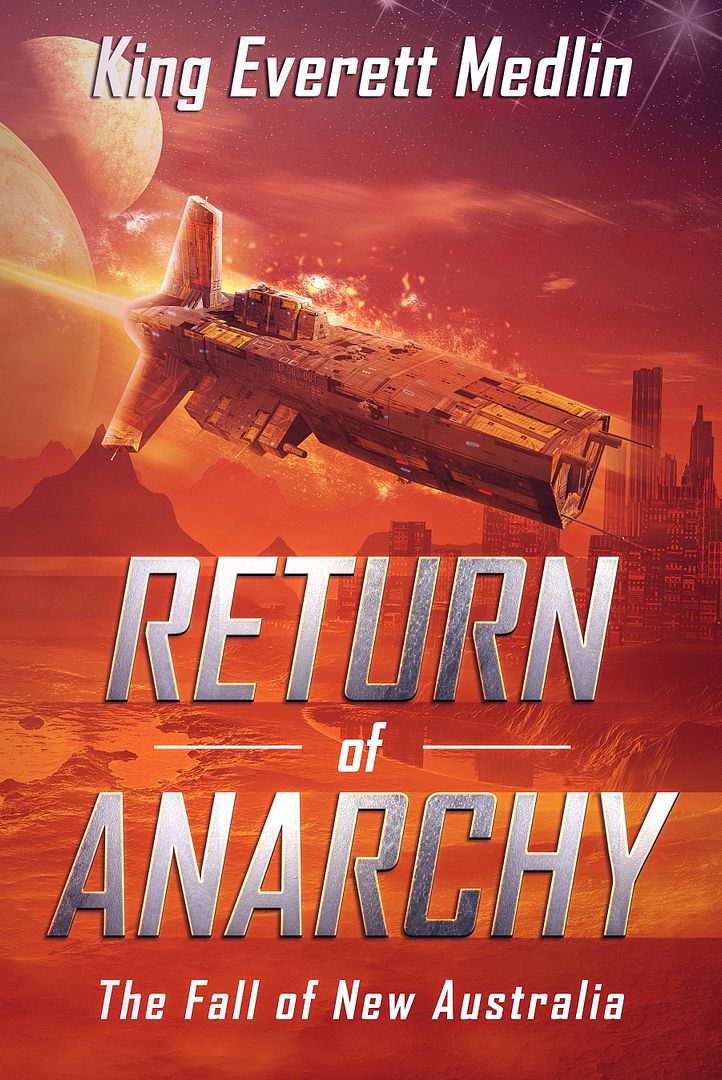 Science Fiction/Post-apocalyptic/Dystopian
Date Published:
11/21/2019
The thrilling sequel to Rijel 12: The Rise of New Australia.
A planet on the verge of destroying itself. A young woman determined to stop it before all is lost.
Ten years have passed since Earth invaded. The volcanic blast that turned the tide of the war has changed the face of the planet forever. What was once a scorched wasteland has been quenched by frequent rains. Farms now cover the surface. The citizens of New Australia have thrived.
Anarchy, the flagship of the resistance thought lost during the war, suddenly returns. To Admiral Slout and his crew, it's only been 6 months since the raid on Star fantasy. But on New Australia, seventeen years have passed, and much has changed. The pirates struggle to reintegrate into a society with rules and laws. Unfortunately that's not all.
The Anarchy brought something back with it. Something more dangerous than anyone could have expected. With the planet on the verge of civil war and leadership in disarray, can anyone stop New Australia from tearing itself apart?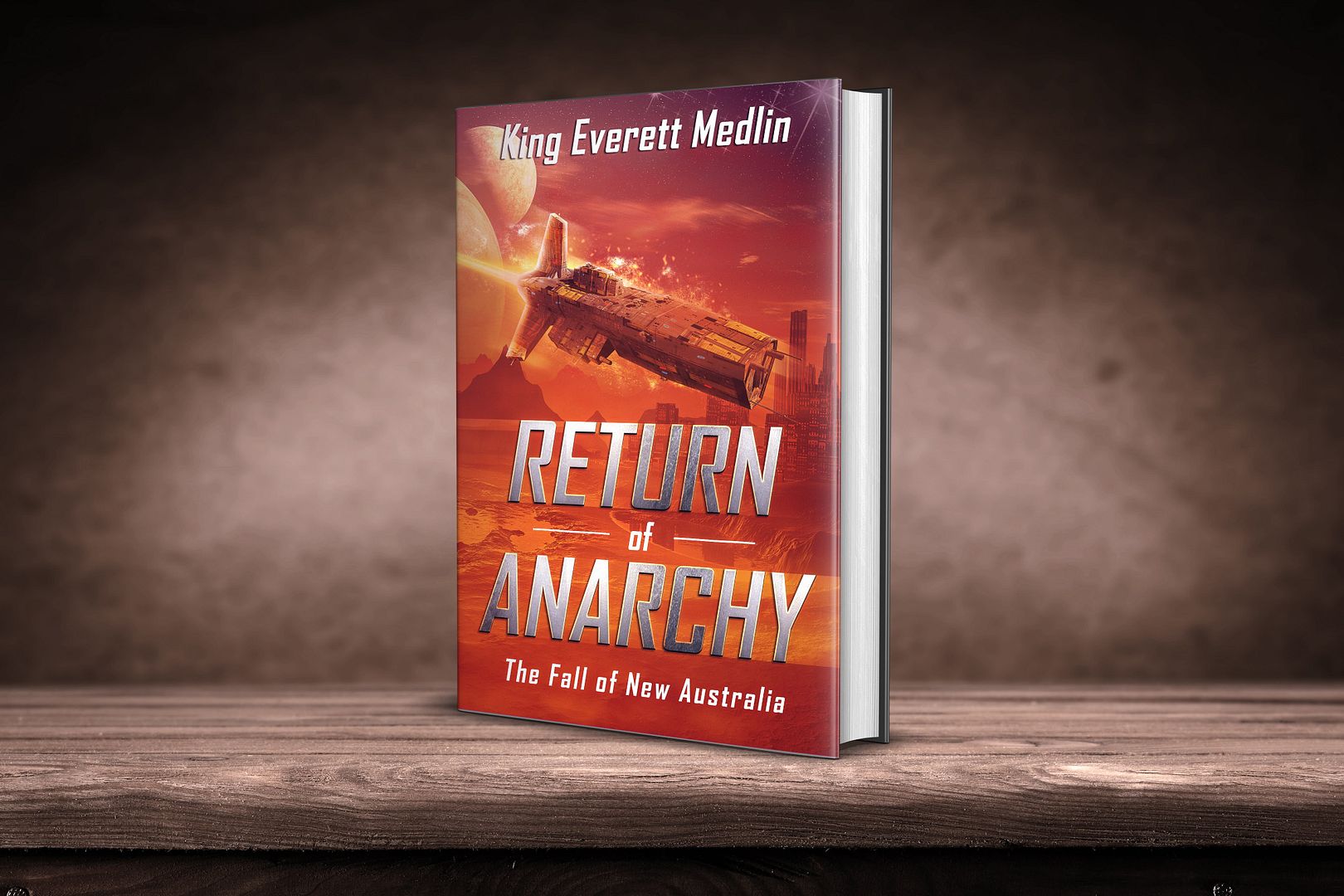 My Writing Process
I begin with a
premise
, then I develop a
synopsis
of the entire story including how it concludes. My next step is to take that synopsis and break it down into chapter summaries which slowly flesh out the story. When I finish this
chapter synopsis
I write the ending scene (as if completing the book). I now know how I must tell the story in order to reach that ending. Only when this is finished do I start; even if it takes weeks to accomplish these first three tasks.
When I write the
chapter synopsis
I save it as a
separate document
. This is useful in that the original
synopsis
is saved on my desktop for use in marketing the book later. I'll go back and look at that document; making changes according to how the story evolved. At that point I've got a two-three page summary for use in submitting to publishers. I can cut down its length in order to fit the book jacket (create a single paragraph version, a 250 word version, etc.).
Here's an example of how I've applied this process in real life:
With
Brynn of Ur
, an Alternative Earth SciFi trilogy, I developed the premise THREE YEARS AGO. A coworker had just read a summary of a series I'd written called
Twin Paradox
. He said it gave him ideas for a "false" Earth, where people believe they're Earthlings only to find out later it's all been a lie. During lunch I ate at my desk and wrote a premise for it. Came back later that afternoon and read it off to him. He disagreed with the direction I went, but admitted it was pretty clever. Over the next few hours I continued to expand on it, until the full story was clear to me, including how it should end. I saved it on my computer…and waited.
There were two reasons for that. First off I knew I wasn't a good enough writer – not good enough to write something like
Brynn of Ur
– not three years ago. Secondly I believed if I waited until I finished several more novels I could come back to the original synopsis and pick up where I left off. This, I did. In fact, last December I finally knew I was ready so I pulled up the synopsis I wrote back in 2016. Over Christmas Break I started developing a
chapter synopsis
. It took three weeks to complete; and when done I realized I had enough material for three full books. I broke it down into three novels, including titles:
Awakening
,
Rebellion
,
Conquest
. I wrote the final scene; dialog and all. Spent most of a day on just that! Next I went back and re-wrote the original synopsis to reflect how the story had developed in my mind once I fleshed out the chapters. Only then did I start writing the first book. It'll be out next year on Amazon!
About the Author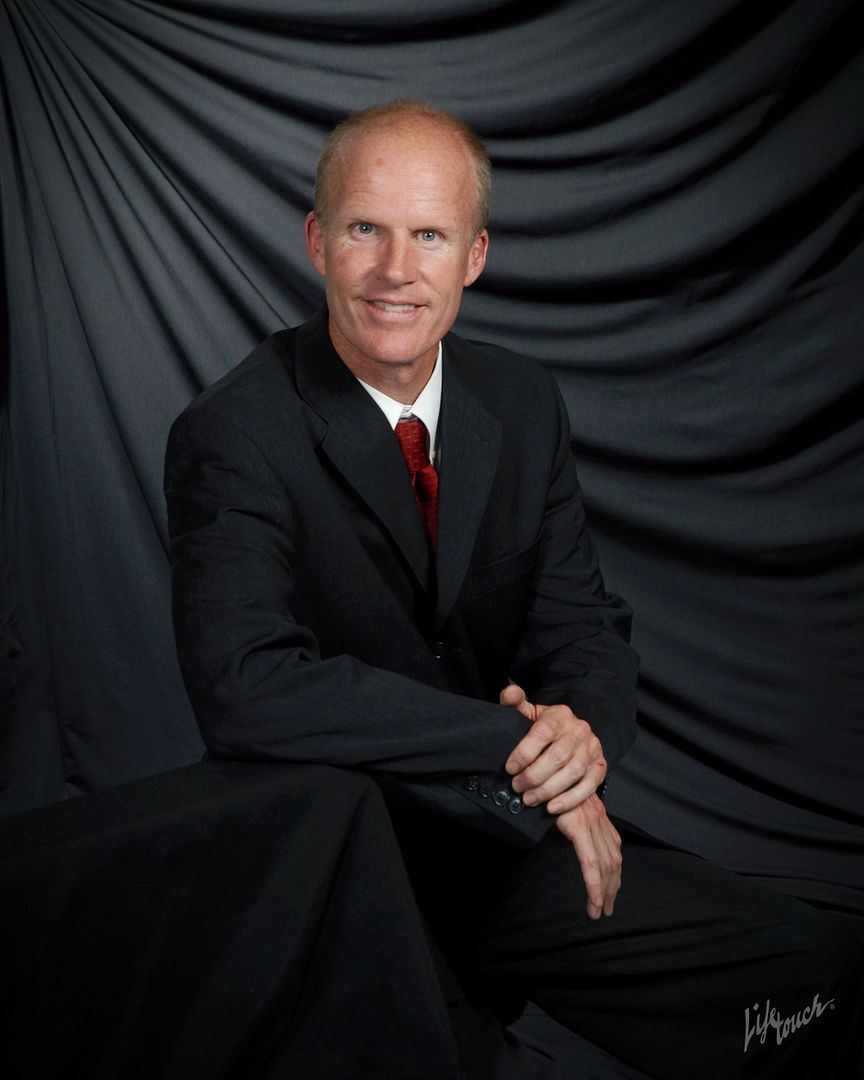 King Everett Medlin has been writing since 2013, when he first developed the idea for Rijel 12. It was originally designed to be a SciFi series, with the objective of creating several short installments. Instead he got a lucky break when Chandra Press from San Diego responded favorably to the original draft, deciding to publish it as a full length novel. King lives in Denver, Colorado with his lovely wife Caroline and has two grown children. He's a graduate of the University of Oklahoma where he played college Rugby; and remains a diehard Sooners fan to this day. His specialties are Science Fiction and Mystery/Suspense novels, focusing on unusual stories with intriguing plot-lines and amazing characters.
Disclosure: Java John Z's did not receive compensation for this post and is not responsible for prize fulfillment.