Here we have an announcement of a sci-fi romantic title. Along with that is a giveaway for a signed copy of book. I think the giveaway is US only as it requires physical copy of book to be sent. You have through 11/29 to enter. Good luck.

Science Fiction/Romantic Science Fiction
An asteroid on a collision course with Earth. Twins from another planet sent to stop it.
With a vibrant art movement, thriving music scene, and culture of change, 1960s Manhattan is pulsating with energy. Twins Mark and Jason appear human, but they have been given powers beyond anyone's imagination. The city embraces them and they dive headlong into all it has to offer.
As the time for them to fulfill their mission grows near, the twins sense that something is wrong. Have they been sent to Earth to save it or to be eliminated? With the fate of both planets in the balance, and everything they've grown to love on the line, can Mark and Jason unravel the truth before time runs out?
Someone asked me how I create my characters. I told her I just say hello in the night.
I meet them. Usually around 2 AM, One might nudge me and say, "Hi, my name is…" I tend to see and feel something intangible; an essence slowly takes a more solid form, comes into my space, and introduces himself or herself. Then when he or she starts coming out of the shadows, I start to see a state of mind, even before I completely make out the figure or face. I start to get a sense of where he thinks he is going. He or she might be unsure, like all of us are. Not knowing one's directions often describes what life is about. I like ambiguity. I like playfulness, and I like passion. I love when a character's actions surprise me. I had no idea Mark was going to do this until he did it. Sometimes a character's actions show you more about his inner workings, which are more important than the actions themselves.
"Mark found humans forever surprising, constantly naively beautiful; every day they fascinated him more.
Playing games and testing his abilities at mental manipulation became a daily pastime on the train, an unending source of pleasure. He would often construct suggestions, implant them into some unsuspecting mind, and watch the ensuing reactions. He might create a deep-seated attraction in a young girl's mind for a stranger. Then, he would observe her eyes as she pined away, watching her new true love jump on the express train, never to be seen again."
Here we learn the character is not human, and he has unique powers, but we also learn he has a mischievous, even a little sadistic, humor within his personality. This to me is a cool way of revealing a character.
When a character is not clear of his actions, or sure of his direction, or if he is struggling to find his way, I become interested. When I hear a character's voice, I start to understand his or her manner, even the inner workings of their mind, maybe even motivations.
"Sure thing, Jason!" she shouted over the tables. Jason watched Angela as she walked towards him.
What a fabulous body that girl has! She has such a bounce in her step, I bet she can really be fun; maybe it should be her for my first try at this sex thing. He looked over at Helena, realizing that she had been following his eyes.
"Oh my God," said Helena, "you are really getting so obvious, and what could you possibly see in her?" Helena watched Angela as she strolled past. "She's so trashy!" Unable to mask her jealousy, Helena's competitive side reared.
Jason looked back at her and did not say anything."
What was important to me was Helena's feeling for Jason and Jason's lack of feeling for her.
With all his abilities, Jason was completely insensitive to her. And with all her beauty and talents, Helena was condescending in the way she thought about Angela. We learn much more about them in just a passing incident.
I want to describe a person indirectly: with actions, with internal dialogue, by peeking and interloping into relationships, watching lives unfold, the way we learn about people in real life. I love the fun of using otherworldly beings to relate to ourselves as humans. We may relate to a character, identify with him or her, or completely hate a character. All hold my interest. I love when a character surprises me, says things I would never think of saying, shocks me, teases me, scares me, even horrifies me. It's all fun.
About the Author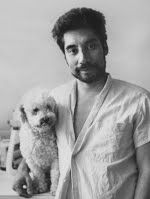 Roberto Arcoleo was born in New York City, Queens to be exact, into a working-class Italian-American family. Roberto's father was a hardworking, grumpy, and reserved restaurateur, his mother a warmhearted, talkative hairdresser.
Roberto was a bit of both. He grew up in Astoria in a two-bedroom ground-floor apartment with one younger brother, his parents, and an invalid grandmother. His early years were tumultuous and confused. Roberto never felt that he fit into the molds that were laid before him. His early extended family home life was chaotic, and his teenage years were worse. After the Catholic grammar school, he continued on to a Catholic high school. He hated them both.
As a teenager, Roberto felt more and more apart from his surroundings. He withdrew into his own world. To onlookers he seemed full of bravado, but he was timid and reserved at heart, always feeling out of place. He started lashing out at the world with violence as mark of distinction. He found a home within street gangs and hard drugs at fourteen. Roberto started living on the streets at fifteen, but was soon taken in by a schoolteacher uncle who lived on Long Island. His uncle held him captive from his own devices until he graduated high school. Later, in college, he studied psychology hoping to find answers. Still troubled, he didn't find the answers he needed in the text. He gave up his clinical ambitions for more underground alternatives. The same uncle gave him his first camera, and he discovered photography.
Under a name other than Arcoleo, he obtained recognition as an artist. He received his MFA from Brooklyn college and later saw his art reviewed in the New York Times. Roberto's work has been acquired by major collections. Among them Brooklyn Museum, the Chrysler Museum, the Museum of Fine arts in Houston and the Museum de l'Eysee, Lausanne Switzerland. He was the first artist working in photography to be given a one-person exhibition at the Aldrich Museum of Contemporary Art; he was awarded a stay at the American Academy in Rome; and his work is presently in the National Gallery of Art.
He always had an urge to write and his late mother was always asking for his first novel. He told her he had to wait until he was called from a special place.
Disclosure: Java John Z's did not receive compensation for this post and is not responsible for prize fulfillment.