Here we have a fantasy book by author Shami Stovall. Along with that, you get a giveaway for an Amazon gift card. Open worldwide, you have through 12/19 to enter. Good luck.

Publisher: Capital Station Books
A secret war of sorcerers threatens to tear the world apart.
The year is 1917, and the Russian Empire is on verge of collapse.
Florence Cavell—codename Geist—takes her special forces team of sorcerers into allied territory in an effort to hunt down spies and keep the Russian royals alive. If the Russian Empire falls, the Germans and Austro-Hungarians will turn their full attention to France and Britain. That can't be allowed to happen.
Unfortunately for Geist, the enemy has sent the Eyes of the Kaiser, specialists who hunt and destroy sorcerers. And they came prepared to eliminate not only the Russian royalty, but the Ethereal Squadron as well.
Praise for Ethereal Squadron:
"In tense, precise prose that skillfully conveys detailed descriptions, Stovall delivers this engrossing story of fantasy adventure with utmost precision. The Ethereal Squadron's riveting fantasy world will fuel readers' imaginations and leave them crave for the next book in the sequel."
3 Tips to Improve Your Writing
Hello people of the internet! My name is Shami Stovall and I'm the author of the upcoming historical fantasy novel,
A COMPANY OF MONSTERS
. I've been published in magazines and anthologies, and sold several novels to various publishing houses. Today, I'm going to impart some writing wisdom to hopefully help all aspiring writers improve their game!
Keep in mind that these tips are not an end-all-be-all. They are simply ways to help someone improve when they otherwise might not know what to look for.
What is a verb? It's "a word used to describe an action, state, or occurrence, and forming the main part of the predicate of a sentence, such as
hear
,
become
,
happen
."
In other words, verbs describe the action. A lot of times, new writers will unintentionally weaken their own verbs by over describing or using "was." Let me show you two examples!
Jane was walking to the store.
Jane slowly walked to the store.
Both of these examples are "weak" in terms of the verb because it's propped up by another word. In the first example "was" is used to help the verb "walking." A stronger sentence would read:
Jane
walked
to the store.
The second example is weak because the verb is prospered up by the word "slowly." A stronger sentence would read:
Jane
ambled
to the store.
A strong verb doesn't need another word to help it move along!
2. Avoid Using the Word "Very"
In most instances, there is no reason to use the word "very" outside of dialogue. Like the examples above, it's a "prop" word that weakens the whole sentence it's in. Let me show you a couple sentences with a before and after effect of using the word "very."
WEAK:
The cat was very cute as it lounged around the house.
STRONG:
The
adorable
cat lounged around the house.
Do you see the difference? One sentence feels more put together. Let's try another example.
WEAK:
Mike didn't answer his phone as he was very depressed.
STRONG:
Mike,
despondent
, didn't answer his phone.
Using a single word to eliminate the "very" helps improve your writing ten-fold!
1. Tension Drives the Scene
Tension helps move any scene along, so remember to keep it high!
For example, imagine a scene where a family is sitting down for breakfast. Normally that would be dull, right? Who wants to read about the mother smearing butter on her toast and the kids enjoying a bowl of cereal?
Now pretend there's a bomb strapped to the underside of the table, and the family is unaware.
Suddenly that butter smearing and cereal eating is the most stressful actions they could be doing! You're on the edge of your seat, wondering when everything will explode, hoping the quite little family makes it out!
That's the power of tension. It helps charge a scene.
Of course, it doesn't need to be a bomb (though that is funny). There just has to be
something
that drive us forward and makes us think, "how is this going to turn out?" that really improves your writing.
Whelp! I hope my tips helped you out. If they did, consider reading my historical fantasy novel,
A COMPANY OF MONSTERS
! Out now!
About the Author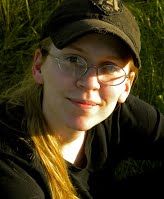 Shami Stovall grew up in California's central valley with a single mother and little brother. Despite no one in her family earning a degree higher than a GED, she put herself through college (earning a BA in History), and then continued on to law school where she obtained her Juris Doctorate.
As a child, Stovall's favorite novel was Island of the Blue Dolphins by Scott O'Dell. The adventure on a deserted island opened her mind to ideas and realities she had never given thought before—and it was at that moment Stovall realized story telling (specifically fiction) became her passion. Anything that told a story, be it a movie, book, video game or comic, she had to experience. Now, as a professor and author, Stovall wants to add her voice to the myriad of stories in the world and she hopes you enjoy.
Disclosure: Java John Z's did not receive compensation for this post and is not responsible for prize fulfillment.